Think Fun 2016
During Think Fun 2016 we had the Questions Questers (age 6-8), the Metamorphs (age 9-11), the Transformer (age 6-8) and the Wonder Wizards (age 9-11). See below for more.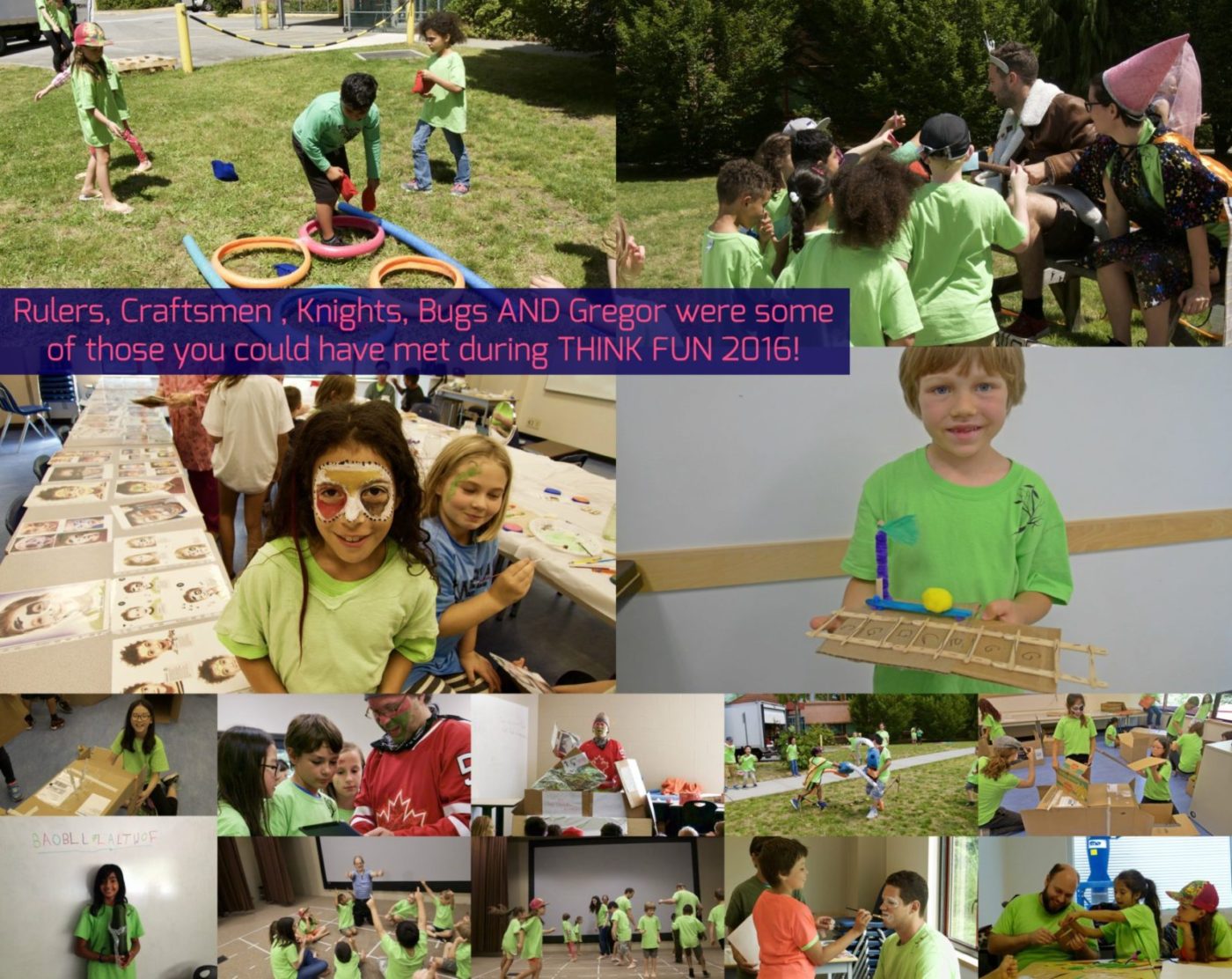 July 11-15
Question Questers (Age 6-8)
Your Quest, if you choose to accept it, will be to travel through a magical world of fantasy and mystery to reach the ultimate answers! Along the way, you will be challenged with games of wit, tests of strength, and puzzling questions. Can you summon a creature out of ooze to be your minion? Can you outrun and outsmart goblins? Will uncover the unknown and question what it means to be brave? Will you make friends with new creatures or can you not trust them? These are but some of the adventures you will encounter! So come join us for these large outdoor games, custom board games, costume designing, and much more! We and your fellow Questers this are waiting for you.
Metamorphs (Age 9-11)
Why do we change so much in our lives? If you would be able to change yourself into anything or anybody, what or who would it be? Maybe you think you will always be the same person? Well, think again! There is change all around us. As a Metamorph, you will explore the change in and around you. Think, for example, about how human beings, animals, flowers, memories and your imagination change. Can you magically change other people? Maybe other people secretly change you! We will be doing skits, dressing up, crafts, and, of course, fun games inside and outside. Let's think together as we are all Metamorphs!
July 18-22
Transformers (Age 6-8)
Have you ever wondered what it would be like to be Transformed into an insect, a star or a famous person? Join the Transformers to crawl around new worlds, explore questions you have always wanted to ask and fly through exciting activities. As a Transformer, you will be making masks, escaping from cages, create amazing art and play exciting games. We will also have some surprising guests as we investigate what it means to 'change'.
Wonder Wizards (Age 9-11)
Hello, Adventurers! Prepare to enter a world of fantasy full of frightful goblins, courageous knights, towering giants and fiery dragons! In Wizards of Wonder, campers travel through a fictional world on a quest to seek wisdom. This camp investigates questions around what it means to be a hero, the way in which we treat those who are different from us, what makes a true friend, and most importantly, what a good life looks like. Activities include energetic field games, custom designed board games, lego villages, innovative crafts, and entertaining outside presentations. Come join us and your fellow Wizards this July for a truly unforgettable Think Fun Camp adventure!